Off-page SEO — Complete Guide
Put your brand at the center of your strategy and your off-page SEO will have a better chance of making a difference in your online visibility.
February 09, 2023 14:13
Off-page SEO is one of the fundamental elements of a successful SEO strategy. We are going to show you what it is, how it works and how to use it to improve the visibility of your site.
If you want to rank your site on Google and improve organic traffic for your brand, you'll need to go beyond on-page SEO.
What is off-page SEO?
Off-page SEO refers to all SEO tactics that do not involve updating or publishing content on your website.
In the past, the terms "SEO off-page SEO" and " link building " were used interchangeably, but there are actually many more off-page SEO tactics you can use, including:
Brand creation.
Create mentions.
Content marketing.
Social networks and much more.
These tactics help search engines and users to get to know your website better and increase the authority, trust and relevance of your site.
Basically, follow this scheme:
Your website = SEO on-page
Other site or platform = off-page SEO
On-page SEO vs. Off-page SEO vs. technical SEO
All SEO tactics can be categorized into three sections: on-page SEO, off-page SEO, and technical SEO. But what is the difference?
On-page SEO encompasses the tactics you use to help search engines better understand and rank for your site. Some examples are creating content, optimizing title tags, and optimizing images, among others.
Off-page SEO includes the "behind the scenes" actions of your website.
Technical SEO refers to activities that have a direct impact on the indexing and crawling of your site by search engines. It includes load speed optimization, structured data, and much more.
Why is off-page SEO so important?
The goal of off-page SEO is to improve the authority of your domain. Without their help, your site will have trouble ranking better than other websites with better authority.
Therefore, your priority should be to show search engines that your site is trusted, shared and referenced by many users. Links are a very good way to do it, but not the only one. There are many other off-page SEO techniques that you can use, let's see some of them.
13 off-page SEO techniques that work
Let's take a look at 13 different off-page SEO tactics you can use to improve your authority and organic traffic:
Link building
brand creation
content marketing
Public relations
Local SEO (GBP and mentions)
Social networks
Forums
Marketing de influencers
events
guest articles
Pódcasts
reviews
content syndication
Off-Page SEO Tactic #1: Link Building
Due to Google's algorithm, link building remains a fundamental element of any off-page SEO strategy. But it is important that you know how to generate the best links for your website and niche.
Getting backlinks from websites with good authority helps position your site as an authority. These links work as a "vote of confidence" from one website to another.
The number 1 goal of link building should be to get quality links from authority sites. You should always prioritize quality over quantity.
Part of your backlink generation strategy should include bridging the gap between your site and that of your competitors. If they are gaining backlinks from websites that do not link to you, you will be losing quality traffic.
These are the three main factors that you should take into account when working with link building:
Authority
By now, hopefully, you know why link authority is so important. You can discover the authority of any website using the Semrush Authority Score metric . But what exactly is AS and what does it measure?
Authority Score is our composite domain score that rates the overall quality of a site and measures the potential impact of your backlinks . The score is based on the following data from Semrush:
The quality (authority) and quantity of backlinks from a domain.
The number of domains and referring IPs.
Enlaces follow vs. nofollow.
Organic traffic (from our Organic Positions report).
The number of users (from our Traffic Analytics report).
To get information about the authority score of current links, you can use the Backlink Analysis tool . You can see the links on your website and their associated authority score in the "backlinks" tab: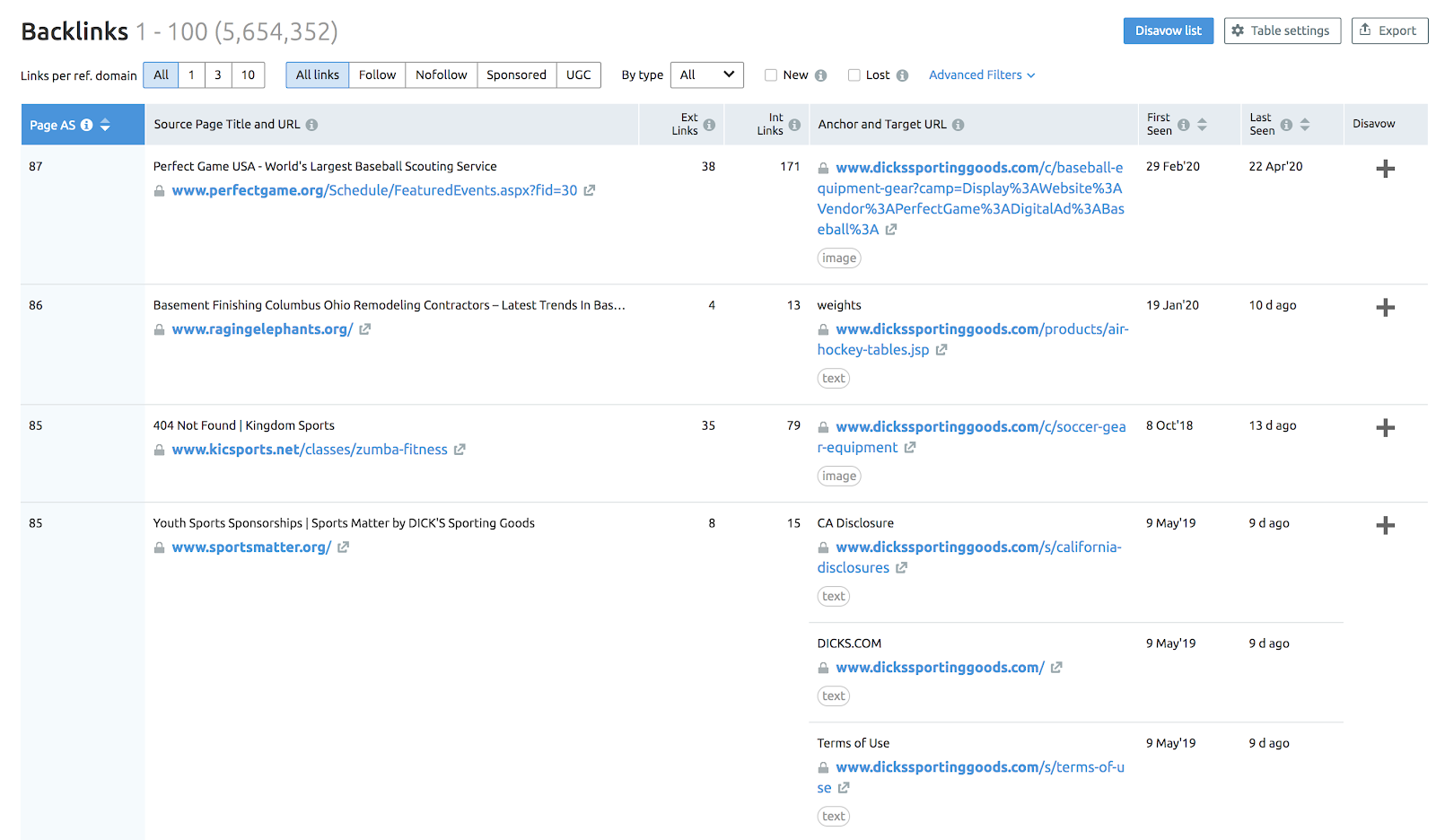 You will see the authority score in the header of the first column "AS Page". The higher the score, the more authority the link will have.
What about when it comes to looking for new links?
You can analyze any domain with the Backlink Analysis tool, and you'll see the AS for that domain, not just the links pointing to it. You will find this information in the domain overview tab:
Remember, the goal of link building should be to get links from websites with a high authority score, and with the data available in these tools, you can get this information about your prospects.
Unique domains
Another critical metric in determining link-building success is the number of links from root domains pointing to your website, even more than the number of backlinks. There are studies that determine a clear correlation between linked domains and better positioning. Domain diversity is key as part of your strategy.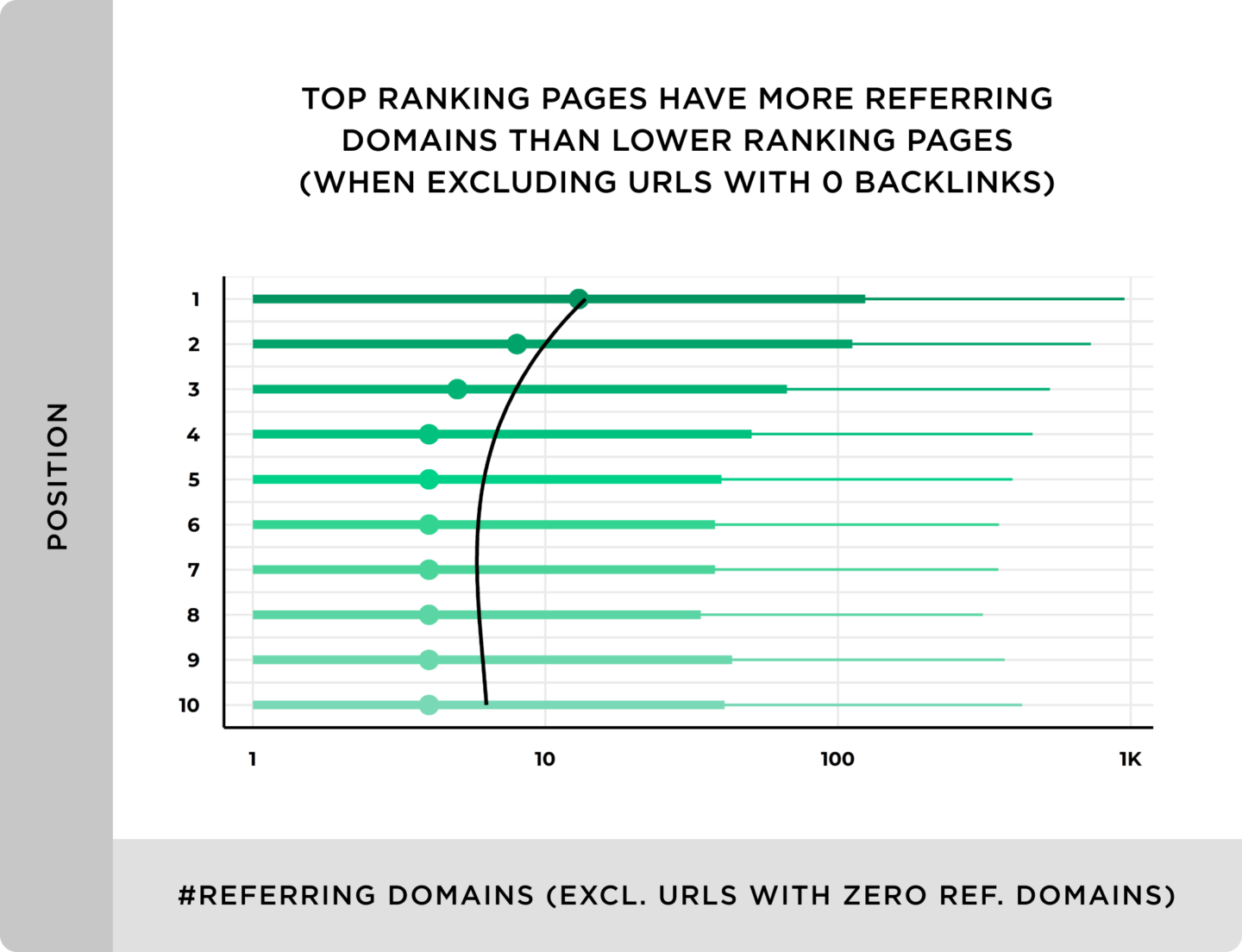 Credits: Backlinko
You can see the number of unique domains linking to your website with the referring domains tab of the Backlink Analysis tool.
Relevance by topics
You should, as a general rule, look for links from websites that are aligned with your own. For example, if you have a travel website, you should have most of your links coming from travel sites; bloggers, online publishers (such as Lonely Planet), travel boards, etc. Makes sense.
That said, it's fine if you have a few links from other topics as long as they're natural and make sense, though most should be thematically aligned.
You can consult our detailed guide to link building strategies that work to understand how to get quality backlinks with techniques such as digital public relations and newsjacking. There are many other effective tactics you can use to build great links and diversify your backlink profile.
Off-Page SEO Tactic #2: Branding
Today, many think that Google rewards brands.
And branding activities should be part of your initial marketing SEO strategy and as part of your off-page SEO approach. Again, it's all part of building your authority online, both for users and for search engines.
How does building a brand relate to your SEO strategy and what are the success metrics?
Brand searches
Perhaps one of the most important indicators that you are creating your brand is that searches for it are increasing. It can be the name of your company, your products or that of your domain.
To see how searches for your brand have evolved over time, go to the Keyword Overview tool and enter your brand name. You will see a "trends" box indicating how search volume has changed in the last month.
You can also check Google Trends to track interest in your brand.
Once again, enter your brand name to see how interest has changed over time; It is possible to view since 2004.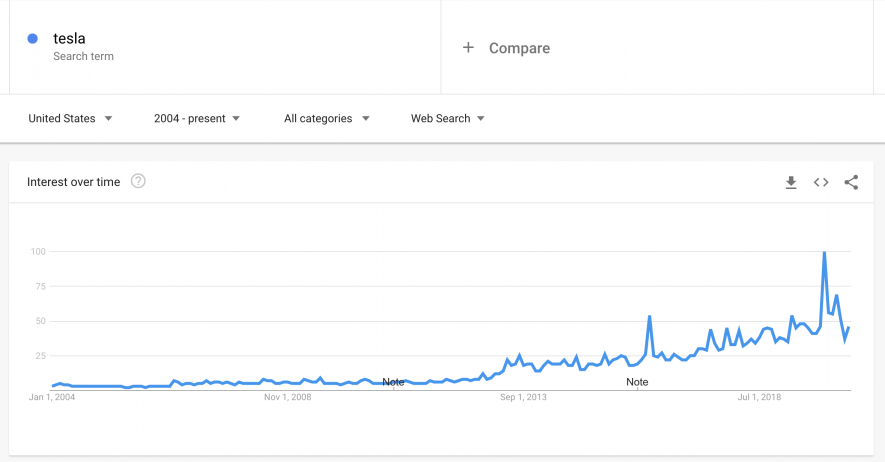 There's another reason why it's so important to focus on brand-building efforts, and that's because of branded search results.
What are brand search results or "brand SERPs"? These are search results that are displayed when someone searches for your brand name.
You can consider them as a reputational impact, but there is also a strong SEO consideration. Branding efforts help Google understand your credibility, which is why it's considered such an essential off-page tactic.
When you build a brand, you get links and mentions, even if you don't actively work to get them.
Off-Page SEO Tactic #3: Content Marketing
When we think about content marketing, it is easy to only take into account on-page SEO, that is, the creation and publication of content on your website.
But, with a holistic approach, content marketing refers to both off page and on page techniques. Publishing good content on your website is only one part of content marketing, anything you publish on your website is also part of it.
If you write a guest post or publish an infographic in a major newspaper, you are working on your content marketing.
Creating engaging, quality pieces makes it easy for you to promote your content and encourage other users to share it. Some common tactics that help improve off-page signals include:
guest articles
infographics
Surveys, studies and research
White papers and eBooks
Content marketing also works well with other off-page techniques, such as link building, social media, and PR.
Basically, if you have a good piece of content, talk about it. You can use our Content Marketing Toolkit to help you find popular topics that are gaining traction online and find relevant media to promote your content.
Off-Page SEO Tactic #4: Public Relations
PR and SEO were thought of as two different disciplines for a long time, but today the lines have blurred and merged.
Digital PR is now a very popular tactic among SEOs, as it is perfect for building authoritative links on a large scale. You can use public relations tactics to promote a good story, since you can get a significant volume of links as a result.
A related study has highlighted that an average campaign receives links from between 10 and 24 unique domains.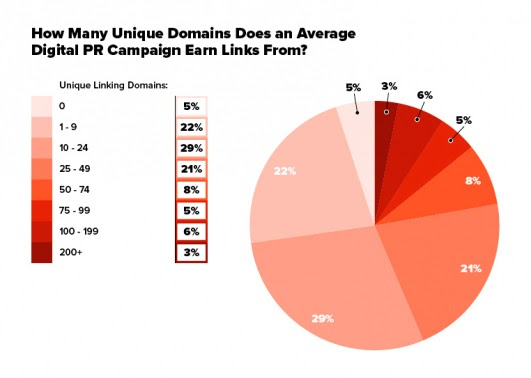 However, PR contributes to off-page SEO signals in more ways. A good public relations campaign can also:
Increase brand recognition and, as a result, searches for the brand.
Make your business known to your target audience.
Attract referral traffic.
Position yourself as a leader in your industry and send signals of trust.
Off-page SEO Tactic #5: Local SEO
Although local SEO is a discipline that is part of SEO, some of its elements are key off-page SEO tactics such as Google Company Profile and mentions.
Company profile on Google
The Google Company Profile plays a fundamental role in the online presence of many local businesses. However, it is easy to forget that optimizing your page and positioning it in the local package is part of off-page SEO.
GBP is not part of your website, so the efforts you make will be part of off-page SEO.
In a recent report, it is stated that 46% of Google searches look for local information and that 4 out of 5 consumers use search engines to find local information . It is a fact that if your business does not appear in the GBP results, those of your competition do.
Take a look at our complete guide on Google Business Profile to discover tips and tricks to help you optimize your listing and get the most out of the platform.
Mentions
An online mention of your business is anything that includes your business's NAP (name, address and phone number). They are similar to business listings.
If you have a local business and are looking to rank for geographic terms in the SERPs or the local pack, you cannot ignore the importance of mentions.
However, the key to being successful with mentions is consistency. If the data is inconsistent, it demonstrates a lack of consistency.
You need to make sure that all your NAP references fit.
You can use our Listing Management Tool to audit your listings, find new opportunities, remove duplicates, and manage reviews.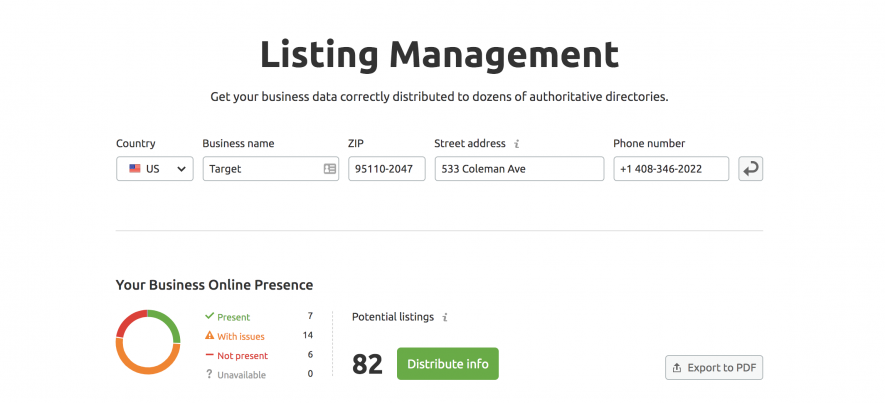 Off-Page SEO Tactic #6: Social Media
We cannot deny that we live in the world of social networks. 93 % of internet users regularly log in to social networks .
Networks play a very important role when using the web and looking for answers to our questions. Ultimately, social platforms are a type of search engine (or response engine ).
However, interactions on social media are not a direct ranking factor. Treat platforms like search engines and platforms to discover new opportunities.
Your presence on the networks can put you in contact with potential customers and users looking for new brands.
Social media is also frequently used as a customer service platform.
Does a customer want to talk to your brand to raise a query or question? The first choice of most of your customers will be social networks.
You need to maintain a strong presence, communicate professionally, and treat social media like another brand channel, one that both current and potential customers will discover as part of their sales journey.
Off-Page SEO Tactic #7: Forums
You may be surprised to see forums as an off-page SEO tactic. Why?
It's because for years, SEOs spammed forums, comments, and other UGC platforms to build links (good or bad quality). Because of this, the forums lost the focus of attention.
When used as part of a holistic strategy, forums can add a lot of value to the marketing mix. Instead of using forums to get links, take a different approach.
Your goal should be to get directly involved in conversations related to your area of ​​expertise, position yourself as an expert, and build a reputation in the industry.
Very few other platforms allow you to have conversations with potential customers who are already asking questions. It is a fantastic way to build relationships and trust.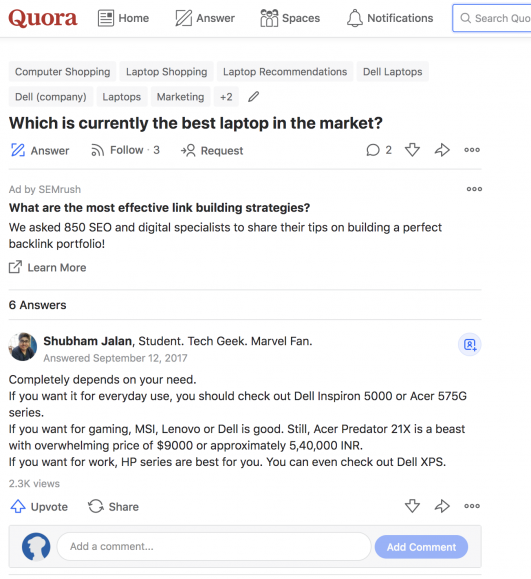 With a little effort and commitment, you can easily build a strong community on the forums. Reddit and Quora are essential platforms, but forums within your niche can be just as effective.
Also, forums have been declining in popularity since the early 2000s, so there's a good chance your competitors won't be around, making it easier for you.
Off-Page SEO Tactic #8: Influencer Marketing
Today influencer marketing takes many forms. A few years ago the most popular tactic was promoted blog posts. Currently, all the actions are focused on Instagram, YouTube and TikTok.
Influencer marketing can be a fantastic way to enhance your brand, amplify your content , and reach new audiences.
We have already talked about how social networks are search engines themselves. Although they are used in a different way than Google, they are used by users to find content.
Influencers can be very useful to ensure that you are present, as a business, on these platforms.
Don't use influencer marketing as a way to get links unless they are nofollow; links to promotional content violate Google's webmaster guidelines
Off-Page SEO Tactic #9: Events
Events are gaining popularity as marketing strategies again and, believe it or not, they can help contribute to your off-page SEO strategy.
Today more than ever, online events are essential. Not only can they help you engage with your audience, but you can benefit from the noise they will generate around your business , which will increase social interactions and links.
Do not rule out using events in your marketing strategy. They may require more effort to function properly, but the interactions they generate are difficult to replicate in any other way. They're also a great way to get some fantastic PR coverage.
Off-page SEO tactic #10: guest articles
Guest posts include posting content to another website to provide information and value to your audience.
When done correctly, guest posts can add to your marketing strategy beyond just links. They remain one of the most effective link building tactics, as we have seen in our study of 850 SEO specialists:
The main goal of your guest posts should be to engage with a new audience, engage with traffic from a related site, and strengthen your brand. When you approach the tactic with this approach, you will reap many benefits.
Links shouldn't be the only reason you write guest posts; they should be an added benefit if they occur.
Off-page SEO tactic #11: podcasts
Podcasts are very popular right now, gaining more listeners every month. 57% of Americans have listened to a podcast at least once .
If you're not using them as part of your marketing strategy, you're missing out on a lot of opportunities.
Let's see the benefits:
Most businesses don't use podcasts as part of their strategy, so it's a good way to gain a competitive advantage.
They are a great way to reach new audiences, share your knowledge, and gain visibility on search engines other than Google.
Apple Podcast is a search engine and allows you to find relevant podcasts using keywords.
Google Podcasts is another popular platform, like Listen Notes.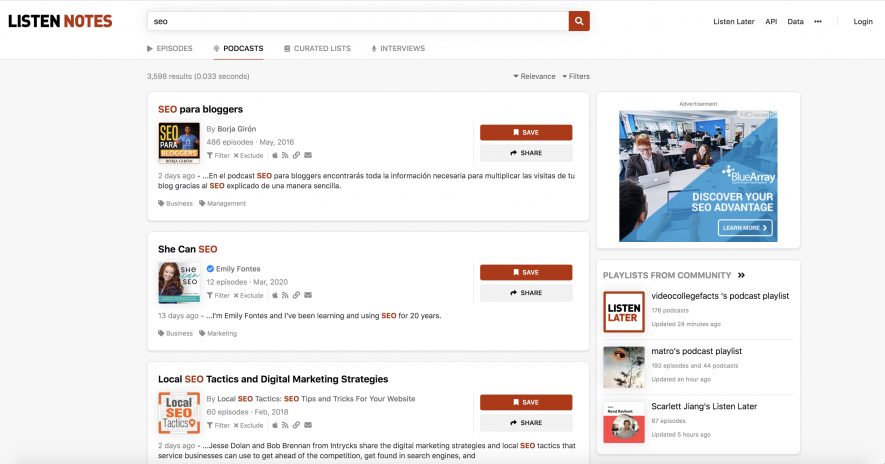 At the end of the day, the businesses that span platforms beyond search engines are the ones that are successful in building their brand.
Off-Page SEO Tactic #12: Reviews
Did you know that 89% of users consult online reviews before making a purchase?
Your online reputation has never been more important. Reviews are a highly underrated off-page SEO and online reputation management tactic.
As TrustPilot states , "Perhaps the most underappreciated benefit of collecting reviews is that, when implemented correctly, they can help Google better understand your site. Google uses them to derive brand signals, which can improve your website's authority and your positioning".
When boiled down to the basics, the goal of off-page SEO is to build your brand and send signals that portray it as deserving of ranking at the top of the SERPs.
A business that has collected good reviews on third-party platforms is positioning itself as a brand. Good reviews help increase conversions and, once again, trust.
Credits: TrustPilot
Off-Page SEO Tactic #13: Content Syndication
Media outlets often look to other sources for syndicated content to supplement their stories, as it is easier than frequently creating new content.
You can find syndicated content on sites that are part of a network owned by a television or radio group. However, editors are also using it to increase the content they publish on their websites.
Yahoo! is perhaps one of the largest platforms syndicating content often from other sources.
You may have even considered syndicating your content to other outlets to increase your reach.
But how does it work as an off-page SEO tactic?
Let's see what Google says:
Syndicated content is often not indexed by Google due to obvious reasons related to duplicates. But that doesn't mean you should always avoid it.
Content syndication can help amplify your content. Getting more looks at your work can have a positive impact on brand signals, even when URLs are canonicalized back to the original, which we've talked about in depth here .
Make sure your off-page SEO is in order
Nowadays you cannot ignore off-page SEO, but it is essential that you do not cover only link building.
Off-page SEO has stopped focusing on directing signals that affect positioning factors, to give more importance to optimization, content creation and positioning in other search engines other than Google.